Which is better for your business – upgrading to Sage 100cloud or hosting Sage 100 in the cloud with a service provider? If you first thought is to ask, "what is the difference?" then you should read through this article here to help you better understand the migration path for the legacy perpetual license version of your software, before continuing on to discover why a truly cloud-hosted environment could be your best option. If you have already done your research into 100cloud but are still not ready to make the jump from your existing deployment, then the below will allow you to determine your choices and discover the benefits of moving your Sage ERP to Secure Cloud Services.
Here are the key factors consider for Sage 100cloud vs hosting Sage 100 in the cloud:
THE SIMILARITIES FOR SAGE 100CLOUD AND SAGE 100 CLOUD-HOSTED
There are a few critical similarities that you will see no matter whether you have completed the migration to 100cloud (formerly Sage 100c) or hosted your system in an online or hybrid environment. The modern version of Sage 100 (formerly MAS 90/MAS 200) added cloud connectivity along with several feature and framework updates, and quite a few of these are meant to emulate and normalize for users the architecture of a SaaS deployment. Here are the shared characteristics you should keep in mind before choosing:
SUBSCRIPTION-BASED PRICING VS SERVICE FEES
No matter which option you ultimately land on, your way of paying for your ERP will inevitably change as Sage and the rest of the software industry moves away from legacy perpetual licenses. Instead of a one-time maintenance charge delivered annually, the cost for your application will be broken up into a monthly subscription. Similarly, hosting Sage 100 with a cloud service partner (CSP) will also bring some regular fees for usage; however, these will ultimately replace the costs of maintaining your servers and other capital expenses with a consistent operating expense.
PRODUCT UPGRADES AND NEW RELEASES
As Sage 100cloud replaces its legacy predecessor it has become the sole focus of all future product updates and new version releases, meaning that users still on the perpetual licenses are missing out on everything but critical compliance updates. If your ERP is hosted, however, no matter which solution your CSP will be able to perform background patch management and upgrades as part of your service.
SAGE 100CLOUD VS SAGE 100 HOSTED IN THE CLOUD
While the Sage 100cloud pricing structure may simulate practice for a hosted environment, it is only cloud-connected and does not automatically migrate your data to a web-based infrastructure. While some users may prefer to avoid moving their Sage 100 to the cloud, there are many native benefits in hosting your ERP that on-premise can not deliver. Additionally, depending on your CSP you will be able to receive more consistent and much faster support, more seamless system-wide upgrades, proactive cybersecurity with incident response services, and much more.
SAGE 100CLOUD REMAINS ON-PREMISE WITHOUT A HOSTING PARTNER
Despite the name change, Sage 100cloud is in fact not cloud-native and will not actually be hosted unless you engage a Sage Hosting Partner to manage your data and applications. For those who plan to or have already upgraded to be able to migrate to a cloud or hybrid environment, this is another step in the process that can be consolidated if you work with a CSP that is also a Sage reseller.
MANAGED IT AND CLOUD SERVICES
By hosting your applications through a data center, your provider will also be able to directly manage, support and secure your Sage 100 environment in the cloud. Bundling managed IT services with your ERP hosting agreement will consolidate your service touchpoints and ensure that your software is protected against bugs, downtime and cyber threats. It also removes the onus and the stress on your internal network management resources from having to monitor a potentially overwhelming number of new endpoints (especially while your employees work from home).
DATA BACKUP AND BUSINESS CONTINUITY
A managed service provider (MSP) is able to help you reliably back up your data and provide other solutions to contribute to your business continuity plan (BCP). Consolidating this with your hosting partner will allow them to more closely manage your Sage 100 data and provide real-time backups that will protect your system from business-breaking downtime. Additionally, CSP oversight will ensure better file integrity and will help you avoid data loss from an unexpected spike or shutdown.
PUBLIC CLOUD, PRIVATE CLOUD, HYBRID, IAAS AND MORE
There are many models to choose from for hosting your software in the cloud, from shared multi-tenant public cloud to multi- or single-tenant private cloud to hybrid environments that leverage existing hardware alongside digital bandwidth. You may also decide to split up direct management of any of the resources in your technology between yourself and your provider with IaaS (infrastructure as a service) where you maintain onsite ownership of your data and applications.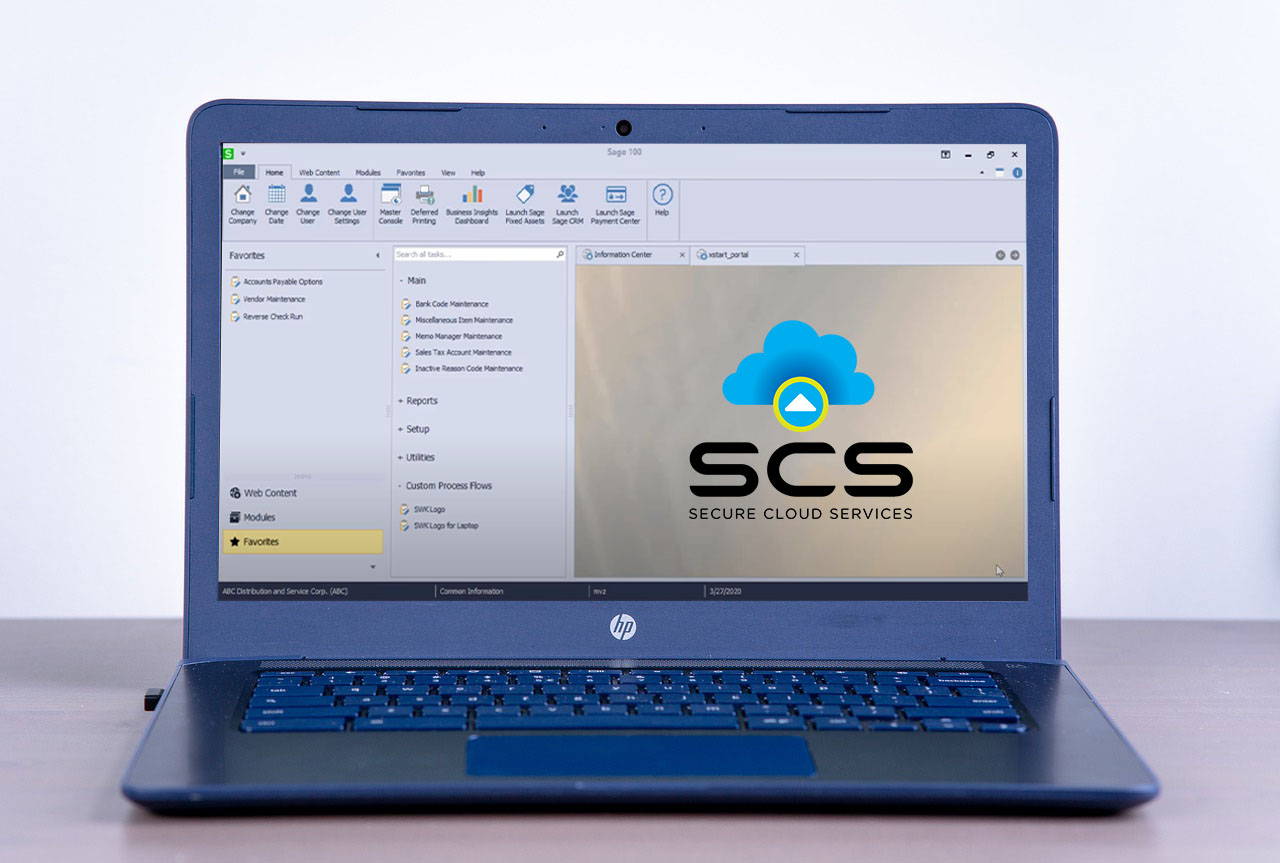 UPDATES AND PATCH MANAGEMENT
Hosting Sage 100 in the cloud lets your CSP deliver your upgrades and patches in the background without requiring a huge implementation project that would lead to downtime and lost productivity. Cloud-enabled update and patch management allows critical maintenance to be carried out in real-time, which is vital for fighting today's modern cyber threats that can spread silently between thousands of networked machines faster than humans can keep up with.
SECURE CLOUD HOSTING SERVICES BUILT WITH CYBERSECURITY
The effectiveness of native cloud security has been an enduring question for many SMBs that are skeptical about migrating to what seem as a more exposed environment; however, this line of thinking obscures an even worse danger. Many businesses are unaware or ignorant of the fact that they already have cloud-hosted connections proliferated in their systems and that avoiding a wholesale migration means that they simply will lack protection against the hidden threats already in their network. That is why engaging a provider that will deliver access to state of the art cybersecurity built for the cloud will offer a better guarantee of safety against wandering hackers.
CHOOSING A SAGE CLOUD HOSTING PROVIDER
Choosing the right hosting partner for Sage 100 will make all the difference for your experience in the cloud, and your CSP should be accredited with Sage solutions and have significant experience with implementing and managing them. The Sage Partner Cloud Program, launched in late 2020, gave Sage 100 and Sage 300 resellers access to a Sage-hosted platform, while many existing partners have already been qualified by Sage Group to provide cloud services with their own solutions (such as SCS).
SAGE BUSINESS CLOUD VS SAGE PARTNER CLOUD
To clarify, the Sage Business Cloud which launched in 2017 signaled the slow migration of the historically on-premise products Sage 50, Sage 100, Sage 300 and Sage X3 to a cloud-connected framework – but it did not actually mean they would be hosted in the cloud. The Sage Partner Cloud on the other hand provides resellers with access to the Sage Provisioning Portal and an endorsement to host Sage ERP with Microsoft Azure.
CONSOLIDATE YOUR SOFTWARE AND IT WITH SECURE CLOUD HOSTING
Whether you host your software with the Sage Partner Cloud or directly through Azure, Amazon Web Services (AWS) or another provider, remember that you are still engaging multiple parties to manage your application and data. If you want to avoid slow response times for support and cyber incidents, then consider consolidating your Sage 100 and IT maintenance with Secure Cloud Services. With cybersecurity monitoring and network management your hosted ERP will receive integrated support for all parts of your technology stack.
LEARN MORE ABOUT HOSTING SAGE 100 WITH SECURE CLOUD BY SCS
Hosting your Sage 100 solution in the Secure Cloud with SCS allows us to take over the heavy lifting for your software and IT management while ensuring you retain control over your critical data. Reach out to us today and discover all the benefits of Sage 100cloud in a true cloud-hosted environment.
Contact Us to learn more about Secure Cloud Hosting for Sage 100.